Family ordered off Jet Blue flight because 18-month-old child is on no-fly list
By Madison Ruppert
Editor of End the Lie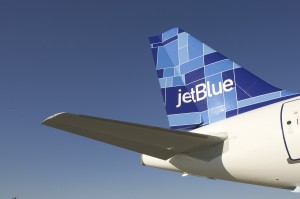 We are now being presented with another example of how ludicrous the Transportation Security Administration (TSA) and their tactics are, as if we didn't already have enough reasons to dissolve the financially parasitic agency.
Personally, I think Senator Rand Paul is right on the mark in calling for the TSA to be completely eradicated, as they are pushing dangerous, expensive and ineffective technology in the name of the fraudulent war on terror.
They continue to expand operations outside of airport terminals and invade our daily lives, all supposedly to fight a threat which does not even exist.
Without pushing back against this out of control agency and other dangerous Department of Homeland Security (DHS) child agencies, we can only expect these abuses to continue or even get worse.
In this case – nearly as absurd as the treatment a 95-year-old terminal cancer patient received – an 18-month-old little girl named Riyanna was found to be on a no-fly list, resulting in her and her parents being forced to get off their Jet Blue flight in order to be questioned by TSA agents.
The girl's parents, who have not been identified, said that they were left "humiliated" by the ordeal.
They said that an employee approached them in order to inform them that the Fort Lauderdale Airport's TSA wanted to speak with them.
When the mother asked, "For what?" The employee told her, "It's not you or your husband. Your daughter was flagged as no fly."
That's right; an 18-month-old child was flagged as a suspected terrorist and blocked from flying. The parents said that they were "flabbergasted" when asked to leave the plane, a feeling which I share.
"It made no sense. Why would an 18-month-old child be on a no-fly list?" Asked the child's father.
The parents say they believe they were targeted because they are both of Middle Eastern descent and the mother wears a hijab.
That being said, both are as American as apple pie having been born in the United States and raised in New Jersey.
When they were stopped they were on their way flying home from Florida back to New Jersey.
After they were ordered off the plane, the family met with some TSA agents. They were then forced to stand in the terminal for 30 minutes, during which time the father said they "were put on display like a circus act because my wife wears a hijab."
According to local news outlet WPBF, they were told they could get back on the plane but were not given any explanation for the humiliating episode, nor were they given an apology.
They said that they felt so humiliated that they refused to re-board the plane, something which is quite understandable.
Jet Blue is supposedly investigating the incident, although they place the blame squarely on the TSA, claiming it is a TSA issue.
The TSA on the other hand, claims that it is an airline issue, and thus is not even investigating the matter.
Apparently the TSA forgot that it is the federal government, not the airlines, that creates these absurdist no-fly lists which regularly include children.
In their defense, the TSA said that since Riyanna and her parents were given boarding passes, they must not have been on the no-fly list and were cleared by the TSA.
Why, then, were they ordered to leave the plane and meet with TSA agents? Since the TSA is not even investigating the matter, chances are we'll never know.
Little Riyanna's father said that he is planning to consult an attorney because he believes his family was "picked on."
The British Daily Mail draws a parallel between this insane ordeal and some other recent similarly nonsensical incidents.
A mere two weeks ago or so, for example, a family from Long Island missed their flight to Florida out of John F. Kennedy Airport when a TSA agent conducted an invasive search on their seven-year-old daughter who is disabled and suffering from cerebral palsy.
Due to the fact that the disabled girl, named Dina Frank, could not walk through metal detectors because of her orthotics and crutches, she was given the now infamous "grope down."
TSA agents carried out the invasive and humiliating search on her, something which was quite traumatic for her. Her father, outraged by what happened said, "She's not a threat to national security."
These searches make many children uncomfortable and frightened, evidenced by the wheelchair-bound young boy who was caught on video (see below) and was clearly distressed by what he was put through not long ago.
Just a matter of days after Dina Frank was subjected to the TSA's thuggish tactics, a terminal at Newark Airport was evacuated by the Port Authority when an infant was not screened.
According to the TSA, the parents passed the child back and forth through the metal detector which caused alarms to go off.
The TSA agents realized that the baby was not subjected to an individual screening and when they couldn't locate the family, they evacuated the entire terminal, delaying passengers for hours.
These are just a tiny sampling of the now massive number of incidents surrounding the TSA, all of which reflect quite poorly on the agency which has proven itself to be completely unnecessary and nothing more than a drain on the already non-existent funds of the United States of America.
UPDATE: Jet Blue is now taking responsibility for this ludicrous debacle, claiming that it was the result of a mysterious "computer glitch." Blame was passed around between the TSA and Jet Blue, but now it appears that it was, indeed, Jet Blue's fault. "We believe this was a computer glitch. Our crewmembers followed the appropriate protocols, and we apologize to the family involved in this unfortunate circumstance," Jet Blue said in a recently released statement. The inclusion of the word belief in the statement leaves me a little less than certain that this is actually what happened. The TSA could have encouraged Jet Blue to take the blame in an attempt to mitigate the massive shift of public opinion against the completely out of control TSA. While that is pure speculation, the truth is that we will never really know for sure.
Did I forget anything or miss any errors? Would you like to make me aware of a story or subject to cover? Or perhaps you want to bring your writing to a wider audience? Feel free to contact me at admin@EndtheLie.com with your concerns, tips, questions, original writings, insults or just about anything that may strike your fancy.
Please support our work and help us start to pay contributors by doing your shopping through our Amazon link or check out some must-have products at our store.
Top Search Terms Used to Find This Page: