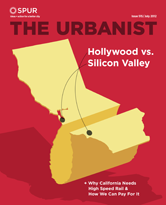 In the most recent edition of the San Francisco Urban Planning and Research Association's publication,
The Urbanist
, two articles strengthen the already solid case for high-speed rail in California. The articles were written initially for an America 2050 research seminar sponsored by the Lincoln Institute of Land Policy and Regional Plan Association this spring. Not only can the state afford to fund the project, argues SPUR Regional Planning Director Egon Terplan in "
Getting High-Speed Rail On Track
," but two of the state's most influential industries - the Hollywood media and entertainment industry and Silicon Valley technology sector - would be knit more tightly than ever before by a high-speed rail system that would realize "the economic potential of enhanced access and exchange across the state," a benefit discussed detailed in Executive Director Gabriel Metcalf's "
Hollywood Vs. Silicon Valley
."